1. Why do we need Multi-Channel Software ?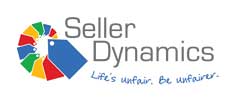 Selling over multiple channels is very important for organisations looking to increase business and grow online. Managing the price, competitiveness, and stock levels of thousands of products on numerous marketplaces would be near impossible if done as a manual task. The automated features of multi-channel software make this possible and consequently save the user time, money, and ensures that products are always competitive and nothing is oversold.
2. How difficult it is to use? 
Seller Dynamics is designed to be as user friendly and as simple as possible to use. We promote our product as one that is easy to use and here's why.
Single Dashboard: All activity is monitored from one single dashboard with everything you need to know in one place. You can also access graphs and charts from here to analyse your data.
Personal Account Manager: Every new client is provided with a dedicated Account Manager who will help them get to grips with Seller Dynamics. While the Account Manager's primary function is to help new users of Seller Dynamics, they will always be available for guidance and advice should clients want to contact them regarding any issues over time.
Automated Features: Our automated features do all the hard work for you. Once you set your profit margins and list your stock, Seller Dynamics will check against all competitors on the market every 20 minutes and amend your prices if necessary, depending on market activity. Our Unified Inventory Management also means that if an item is sold on one marketplace, this is taken into account on all other marketplaces in order to prevent overselling.
Stationery: Once you start using Seller Dynamics and selling on multiple marketplaces, we anticipate that you'll have an increase in sales which is why we provide all the stationery required for packaging and shipping. This can be customised, branded, re-sized and printed out easily so that you can dispatch your goods as quickly as possible.
3. What time does to take from phoning you and getting live and working? 
We always try and clients live quickly as possible but every client is different, and therefore no set time frame can be specified. However, if a client signs with us and they already have a Proseller account on one of our partner marketplaces as well as a stock list, we can have them live within 1-2 days.
From the first call, the person enquiring will be given a Seller Dynamics demo before signing up with us.
The nature of the product being sold (e.g. alcohol legislation) and the number of marketplaces being sold on is dependent on the time it takes to put a client live.
4. What is the cost? Will it break my back! 
One thing we do differently at Seller Dynamics is that we do not charge a monthly fee for clients using us. All it costs is a percentage of the sales made through our partner marketplaces. We've developed our "Pay-As-You-Sell" method meaning that all payments are dependent on how well the client is doing at selling online.
5. How long does it take to learn how to use it? 
Seller Dynamics is relatively simple to use and we'll give you enough help for you to become an expert in no time. You will be shown a demo before signing up and your personal Account Manager will guide you along the way and help you get to grips with it. We have a policy where new clients originally will list just ten items on their chosen marketplace so they can learn by doing and get to grips with how to work the software and once they feel comfortable enough using our software, they can upload as many items as they please.
6. Will there be someone when I need help on first two months of running? 
We take customer service very seriously and as part of that, we provide each client with their own personal Account Manager. While the main purpose of the Account Manager is to help new clients get on their way, we will always be a phone call away if any help is required, whether this is two days or two years down the line.
7. Why Seller Dynamics and not Channel Grabber or Channel Adviser? 
With no sign up fees, a personal account team to help the needs of each client and an easy to use programme which enables businesses to expand their online operations through a host of different marketplaces, Seller Dynamics offers everything an online retailer needs.  Our automated features save clients time and improves supply chain management, meaning that you'll be running a smooth and effective e-commerce operation which will not only help you gain more revenue but such efficiency will ensure that your customer feedback ratings remain high.
Pay-As-You-Sell removes the pressure to hit a margin that will cover your monthly fee (as charged by other companies) and the fact that we are integrated with the Magento e-commerce platform means that any client that has a Magento e-commerce site for their own business can manage it on Seller Dynamics the same way which they can manage a marketplace such as Amazon.
Personal Account Managers for each client are a unique selling point and ensures that queries are dealt with quickly and any problems are solved instantly. Oh, and we also have a really good Facebook and Twitter account so check that out for marketplace management tips, advice and a bit of light-hearted entertaining fun as well.
Contact James at Seller Dynamics if you would like to discuss your requirements.